Automated Text Messages 101 [Guide, Examples, and Software]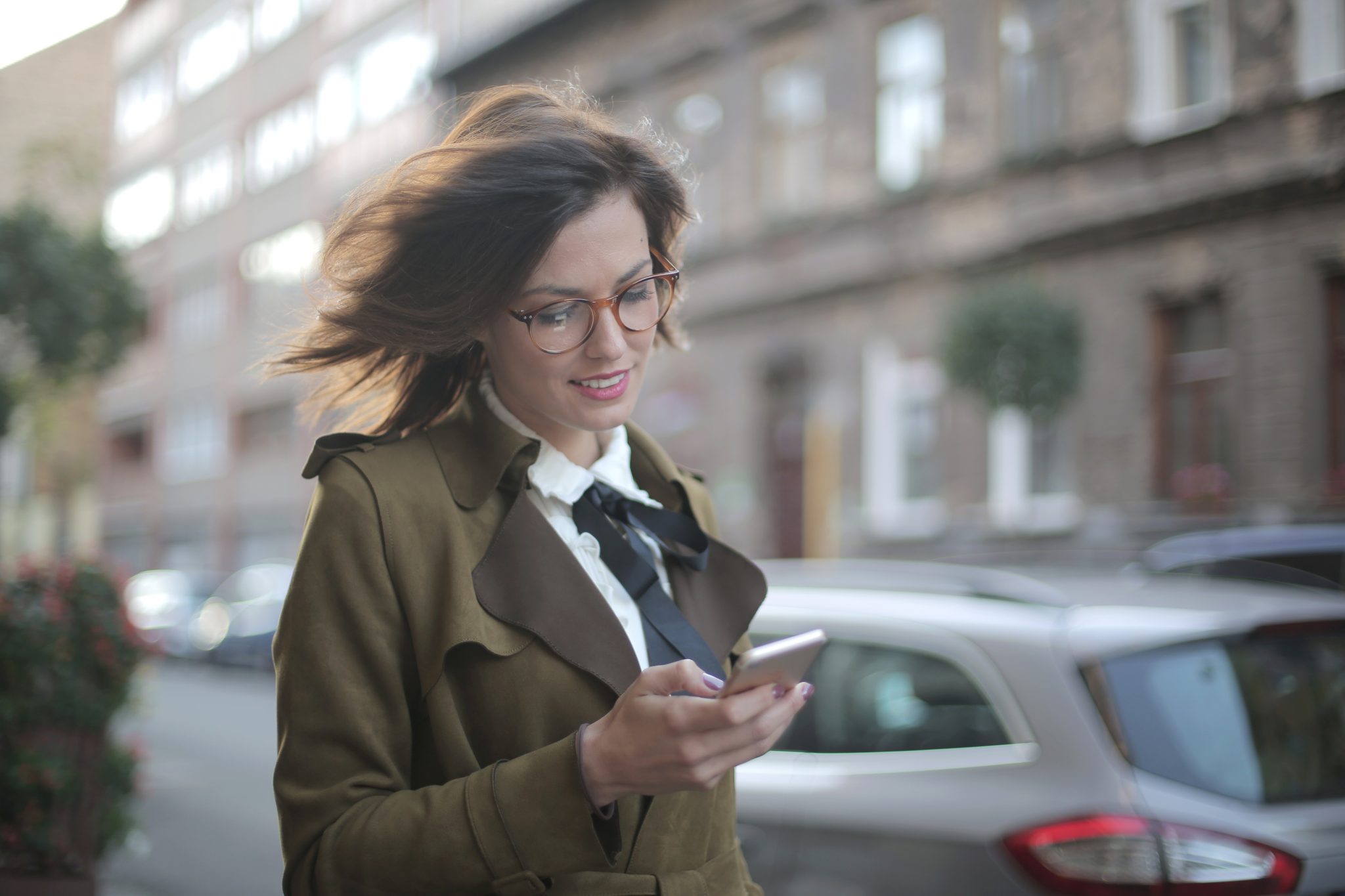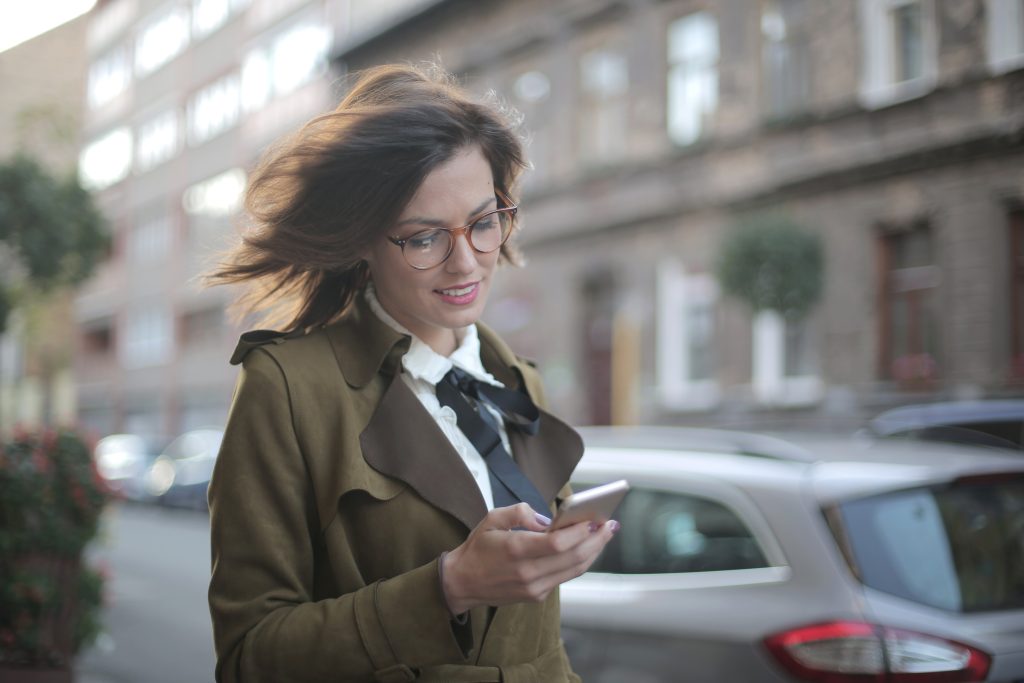 Gone are the days of using phone calls as the main channel for customer interaction, especially for marketing and customer service.
Using a short messaging service (SMS) to generate automated text messages is the faster and cheaper alternative. It's estimated that SMS automation can result in cost savings of 40 to 75%.
It also helps that bulk text messages have an open rate of 98%, meaning more eyes see what you want them to see. Be honest: When was the last time you answered a cold call?
Since a marketing text message is basically guaranteed to be seen, the next thing to do is optimise the customer experience by producing personalised messages.
Automated text messages can help you save resources and reach your customers fast – even with large SMS campaigns – without sacrificing the quality or relevance of the message content.
You still get to customise the type of message you send to each audience segment as well as certain components of messages for individual recipients.
From there, you can automate the creation and delivery of your SMS marketing campaign for the best cost-benefit ratio.
We'll show you how.
But first: the basics.
What Are Automated Text Messages?
Automated text messages are pre-written messages that are automatically sent to your database at a scheduled date and time.
You only need to write the template for each message, and automation will do wonders to personalise each message for each and every customer.
For example, your "welcome" message to new customers always includes the key details you want, but automation adds an extra touch of greeting them by name.
How and When Does Automated Text Messaging Work?
There are several common uses for automated text messages for employee and customer communication:
Scheduled text messages: Announcements or triggered responses like delivery confirmations
Automated sequences: Planned sequences made for a specific occasion, like re-engaging the customer after it detects an abandoned cart
Drip campaigns: Marketing SMS campaigns designed to

engage a segment of your audience

with a predetermined date and time for each message
Recurring texts: Messages that aim for a specific, personalised time like deals for a recipient's birthday, reminders for a patient's annual scan and check-up, or warnings when a customer's membership is about to expire
SMS autoresponders: Auto-reply texts like out-of-office messages that are the same regardless of the recipient
Automatic text messages represent a total overhaul of your communication.
They're a no-brainer for one-way messaging like confirmations or out-of-office messages when they don't change much based on the recipient.
But they're also useful for 2-way messaging for specific recurring events you know will happen based on previous customer interactions.
Survey messages, feedback collection, pickup options, and FAQ answers all fall under this category.
Automated texts can even be used (carefully) for some customer service answers.
You could use it to give a generic answer that would satisfy most customers but still offer an alternative solution in case that didn't help, so they don't get frustrated feeling like they're talking to a wall. While it can't completely replace customer service, it relieves some of the burden.
Texts shouldn't be unstoppable, though. Remember to include the "opt-out" option.
Consider adding a trigger to stop the sequence once a specific action is taken to avoid spamming customers with an offer they already took.
How Does Automated Text Messaging Help Your Business?
So… why should you automate your communication?
These are the main benefits of turning to automated SMS for your business comms:
Super Simple To Set Up and Use
It takes a bit of work to automate text messaging at the beginning, but then they're a gift that keeps on giving.
No need to go through the whole process from the start.
You just edit and add an occasional new message.
Most of them can be reused, so you can skip many steps, save money and time on the logistics, and reach your customers much faster.
Easy To Reach Customers Exactly When They Need You
You reach each segment at a set time and send specific, triggered messages that are relevant to them at the perfect moment, like right before an appointment or when it's time for a contract renewal.
Whether the message is triggered by their action or scheduled by you, text message automation allows you to seize every opportunity and be there for the customers.
Enables Personalised Messages Without Having To Write Each Message Individually
"Personalised" just means "relevant".
A reminder, tailored special offer, or welcome message can be relevant if they reach your customers at the right moment and make sense.
For example:
An offer to subscribe if you're not subscribed, or a reminder to pick up a package that you ordered is spot on ✅
An offer to subscribe when you're already subscribed or a reminder to pick up a package you cancelled is spammy and off ❌
Personalisation doesn't have to mean super high-effort or literally writing unique messages for each recipient – it's like generalised horoscopes, not precise fortune-telling.
Custom SMS can be automated for the best of both worlds: relevant and customer-focused while also being cost-effective.
Saves Time and Costs
Imagine all that time you don't spend typing out each individual message or rushing to fit into a limited time window…
When you automate text messages, you stop repeating one part of the process. The boring part, specifically.
Besides letting you focus on the creative or administrative work, cutting the task list in half means you can save and reallocate your resources.
What Kind of Messages Can You Automate?
Let's examine the use cases of automated SMS:
| | |
| --- | --- |
| Message type | Explanation |
| Welcome messages | The message people receive when they opt-in to receive SMS or make their first purchase can be triggered and sent automatically |
| Opt-in campaigns | An automated sequence for new customers can show them the company offerings and start building a relationship with them |
| Broadcasts and marketing offers | Announcements of new releases, flash deals, and other offer messages targeting a specific segment can be sent at the optimal time |
| Customer service responses | Automated responses decrease the need to spend time on calls through FAQ-type answers to help and filter out most callers |
| Delivery and pickup options | Delivery-related messages give customers more agency to choose where and when to pick up their package |
| Out-of-office messages | Simple one-way messaging automation can help you manage customer expectations and inform them of their options to reach you |
| Appointment reminders | Scheduling automated reminders a day or hour in advance increases the chances of patients and customers following through |
| Reminders for payment collection or checking out | These messages can be set up as an automatic response to a trigger, like when a customer leaves their online cart full for an hour |
| Feedback collection | Surveys for a specific segment can be scheduled and automatically sent in bulk to reach customers at the right time to respond |
| Asking for reviews | Messages scheduled for immediately after the appointment remind customers to write a review while the experience is still fresh |
Now that we've seen the use cases, let's see how some companies already are using automated text messaging and their results.
4 Automated Text Message Examples
Here are some real-world examples of companies using automated text messages to grow their business to inspire you.
T-Mobile (Telecom)
T-Mobile uses SMS to update customers about their account status as well as data usage and package plans when travelling internationally.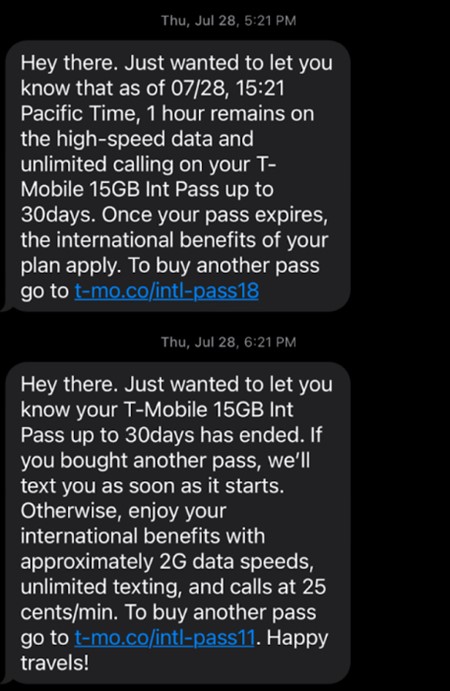 They make sure to reach their customers at the right moment and use the opportunity to make a valuable offer right there in the text.
Best of all, these messages are automatically triggered when a customer uses up a certain amount of data or time, so T-Mobile doesn't need a person to manually call each person or monitor their status.
Quintiles (Medical)
Quintiles turned to automation to increase customer attendance rates and reduce the costs of staff manually calling each patient before their appointment – often only reaching their voicemail instead.
Automated text messages caused a 91.6% reduction in resources used to remind patients of screening visits, and the increased amount of SMS sent was positively correlated with attendance rates.
Rise Physical Therapy (Healthcare)
Rise Physical Therapy, located in Fayetteville, AR, sends automated text messages immediately after the patient's appointment to request a Google review.
A small step, but it reduced the chances of patients forgetting to do it later.
This has helped them gain a lot more positive reviews and maintain communication with patients while saving time on manual follow-ups.
James Crawford Law (Legal)
Before switching to automated text messaging, Maryland-based James Crawford Law spent a lot of time manually creating new workflows for each command in their customer relationship management system (CRM).
The law firm struggled to nurture customers because notifications wouldn't get through to them on time, so they needed extra time to manually respond.
JCLaw solved its communication issue by integrating SMS with its CRM. They use custom automated text messaging to send billing requests and reminders while also using automated drip campaigns to help them acquire new customers.
As a result, the company's acquisition rate was raised by 92%.
So, how can you do it?
How To Send Automated Text Messages in 7 Steps
We'll keep the steps actionable and straightforward.
But, if you're in a hurry…
The Summary
…Then let's cut to the chase:
Step
Description

Pick an automated SMS service

Look for features relevant to your industry

Make sure you trust their customer support

Check if they support international SMS

Activate one or more phone numbers for texting

You need a local number for each country

Use multiple numbers to separate concurrent campaigns and mass-text a large database

Add your database and cleanse the numbers

Get consent to message your audience

Cleanse the database to avoid wasting money on incorrect numbers and missing opportunities

Make sure all the APIs are set up correctly

Work with a developer to ensure your integration works perfectly

Set up your first automated campaign

Take inspiration from the use case examples above

Mind message length and characters

Create a template you can reuse in the future

Schedule and activate it

Schedule drip marketing campaigns or promotional offers

Set up triggers for messages based on specific actions, like customers subscribing or messaging you first

Let the tool take care of business while you work on other tasks

Monitor the campaign and find more automation opportunities as you go

Optimise based on results

Reallocate the saved time to more important and creative tasks
Now the deep dive.
1. Pick an Automated SMS Service
First off, you need a provider. How do you pick one?
We'll give you some options below, but here's food for thought when you shortlist your candidates:
What is their customer support like? With technology, you're bound to have a glitch at one point, and this could make or break your experience.
Do they target your specific industry? The provider could have a thousand bells and whistles, but don't lose sight of the features your company and target audience need.
Do they support international SMS? If you have an international audience, this is mandatory.
Your provider should also be able to cleanse your database and provide mobile number portability to help you save on costs.
2. Activate One or More Phone Numbers for Texting
Here's when you might want multiple numbers for marketing SMS:
When you're running multiple campaigns and want to keep them clearly separated
When you're sending high volumes of SMS to a large list of subscribers
You're running international campaigns, so you need to work around local restrictions and avoidable costs
You can use a shortcode or longcode ID if you're going for two-way messaging.
For international SMS, you may need multiple local longcode numbers (for example, starting with +43 in Austria) or an alphanumeric ID because some countries only allow this type of identification.
However, alphanumeric IDs only support one-way SMS – still good enough for autoresponders and basic no-response messages.
Your provider can help you pick the right option and activate the number(s) for your SMS.
3. Add Your Database and Cleanse the Numbers
Add exclusively all the people who have consented to receive marketing messages from you – in most countries, you're legally not allowed to message them otherwise.
Compliance isn't the only thing to worry about. Before you start mass texting, cleanse your database.
Cleansing prevents you from wasting money on unused or incorrectly formatted numbers and ensures you're landing in all the right inboxes.
4. Make Sure All the APIs Are Set Up Correctly
You should connect your SMS to other marketing channels and campaigns. Critically, you need a unified database of information because:
Customers expect a seamless experience interacting with brands regardless of the channel
It's easier to keep track of all the information in one place to keep all agents and marketers in the loop
Avoid double work of inputting data in separate contact lists and then trying to update them separately as well
To make this work, you need integration. Cooperate with your developer to ensure all the tech parts are talking to each other and your central data hub does what it's supposed to.
5. Set Up Your First Automated Campaign
You can look for ideas on which types of messages you could automate in the examples section above. For this guide, let's say you're going with appointment reminders.
Here's what you need to create and automate text messages:
A template or pre-written message you can reuse for each reminder
The message content needs to be concise and include instructions for opting out or rescheduling
Mind the number of characters to save on costs – 160 is the limit before extra costs apply if you're sticking to normal letters and numbers
Don't forget to leave enough characters for the recipient's first name
Set up how long before the appointment you want the reminder to arrive
Appointment reminders are usually sent a day in advance.
So, you can make it a rule to automatically generate an appointment reminder as soon as the appointment is booked, and schedule it for the day before.
If the patient forgot about it, they have enough time to reorganise or pick a better time and let you know.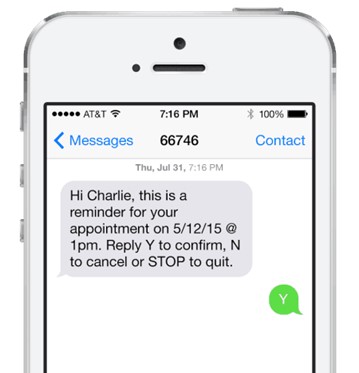 6. Schedule and Activate It
Some automated text messages can be scheduled in advance, like drip marketing campaigns or deal offers.
Others require a trigger. Triggered messages are only sent if a specific action or event happens.
Perhaps a customer clicked the "subscribe" button that triggers a welcome sequence, or they tried to reach you while you were out of office, triggering an auto-response about your well-deserved holiday.
Either way, it's time to take your automated message for a spin.
7. Let the Tool Take Care of Business While You Work on Other Tasks
By "taking your automated message for a spin", we mean to set it up and leave it, because that's the beauty of automation. You don't have to be sitting there and waiting for something to happen.
Of course, you should occasionally check in on your campaigns and monitor responses.
But apart from that, your automated text messages send themselves and nurture your clients for you.
Meanwhile, you could spend time getting to know more about your audience and creating offers that hit the right spot for each segment to maximise your ROI.
5 Automated SMS Software To Check Out
So, where do you sign up?
We've compiled the best providers you should consider for your automated SMS campaign.
1. Mr Messaging
Mr Messaging is a top choice for companies seeking a rounded service with unparalleled support.
If you're looking for a company that's attentive to your needs from the moment you browse the site, through onboarding, and anytime you have a question later on, then Mr Messaging stands out from the rest.
What good are fancy features if you don't know how to set them up or fix them when a glitch happens?
After all, your job is to sell your services and run the business. You have more important things to do than tinker with your communication platform.
Expert help is the best way to guarantee everything is working for your SMS campaign without having to waste your time or even know any of the logistical nitty-gritty yourself.
Other than that back pocket support at all times, Mr Messaging offers:
International SMS
Mobile number portability
Database cleansing
Automating your message sequences, scheduling across time zones, and customising for each segment are straightforward tasks with Mr Messaging.
It's a perfect fit if you're in telecom, logistics, medicine, or mobility while trying to reach and engage a wide audience without breaking the bank.
2. Omnisend
If you're an eCommerce company, automation won't do much for you without the right integrations.
Omnisend has your back with eCommerce integrations like Shopify, WooCommerce, and BigCommerce.
You can have both segmented MMS and SMS messages with this provider.
Omnisend also enables automation with mixed channels, which is great for raising overall engagement for marketing and offering the seamless experience customers are after.
3. Tatango
Tatango is a popular choice for enterprises.
It's a robust messaging service that provides SMS, MMS, and RCS campaigns and has a detailed reporting system.
It's easy to use, but Tatango's support is famously helpful and responsive nonetheless.
The only drawback of this provider is that it doesn't support 2-way messaging.
That means you can still use Tatango for one-way-only communications like reminders, confirmations, promotion links, birthday or anniversary congratulations messages, and autoresponder texts.
But you'll need a different provider if you need more.
4. Trumpia
Trumpia is a "something for everyone", jack-of-all-trades-type offering.
If you were to take a very safe route while still looking for a provider that has experience in your industry, chances are you wouldn't go wrong with Trumpia.
They offer services to all kinds of industries like fitness, food and beverages, recruitment, and financial services.
However, you do have to be on an advanced pricing plan to get automated workflows.
5. Route Mobile
Does your sales and marketing strategy involve reaching customers wherever they are?
Would you like to integrate SMS into your processes and employee oranisation without having to make a ton of changes?
Route Mobile could be exactly what you're after.
This provider offers a wide stack of services ranging from SMS, identity solutions, voice, email, and enhanced business messaging via WhatsApp, Viber, Telegram for Business and more, topped with some essential CRM integrations.
If SMS feels like a daunting new channel, Route Mobile also offers Mail2SMS, which converts the messages you initially write as emails into SMS messages, and turns the SMS you receive back into emails.
On your end, sending SMS this way just feels like sending regular emails. It's great for shorter, transactional, and organizational 2 way SMS.
Route Mobile can set you up for customer management, nurturing, and engagement, as well as employee scheduling and communication.
Save Time and Money With Automated Text Messages
Automated text messaging can take your customer and employee communication to the next level.
It replaces a portion of manual communication altogether, removes repetitive and error-prone tasks, frees up your resources for better uses, and helps you send large customised SMS campaigns quickly.
The pay-offs are worth the initial investment.
Before you schedule your first SMS blast, find the best time to message each of your audience segments to ensure you reach them at the right time.
Any questions? We'd love to hear them! Reach out to Mr Messaging to learn more about automated text messaging for your company.