How To Create an Effective Mobile Engagement Strategy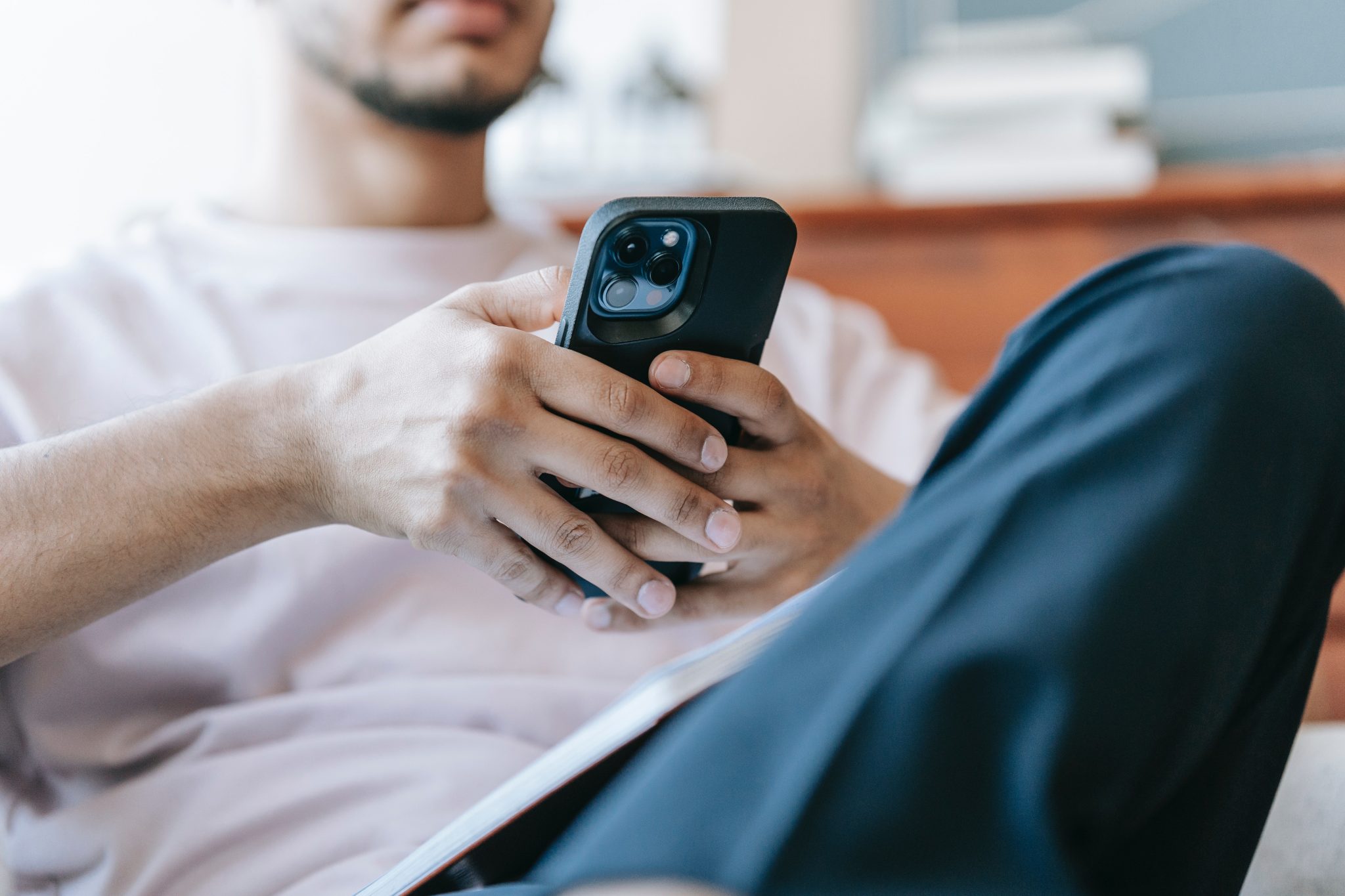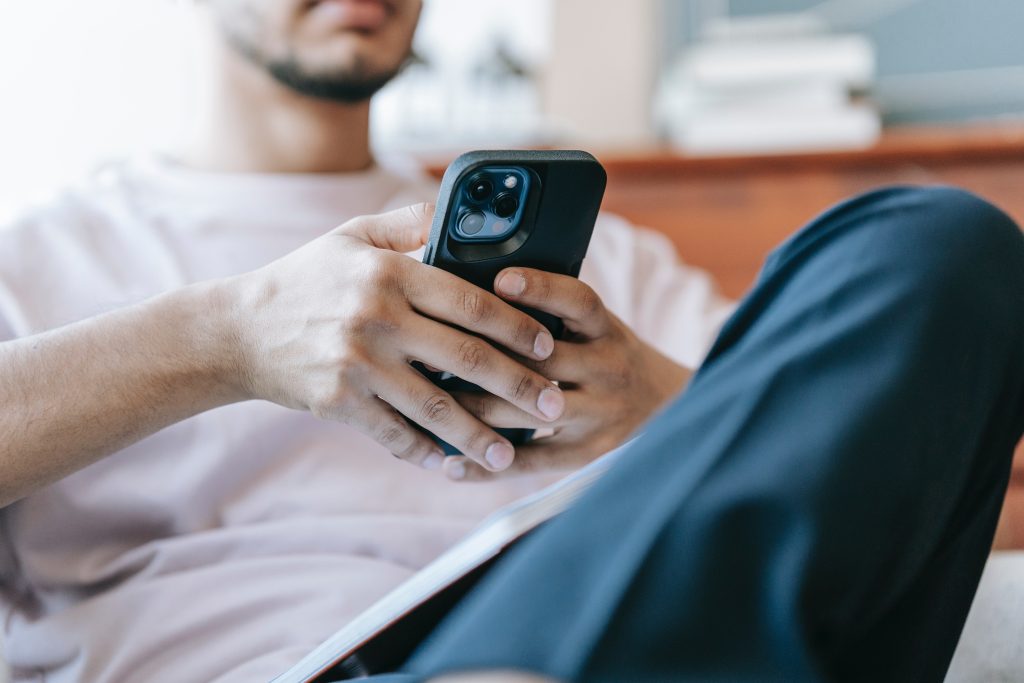 Ideally, you would blast out an SMS message, and your audience would immediately say YES, take the action you want them to, and maybe even recommend you to a friend.
In reality, though, that's often not how it goes down.
Getting their numbers is not a guarantee that your audience will care or engage with your SMS campaign.
Without a plan in place, texting your audience is a gamble – and even if you get lucky and say the right thing in your first few messages, leaving your bottom line up to chance doesn't make business sense.
You need a mobile engagement strategy to catch and keep your customer's attention consistently and maximise your user retention rate.
What Is a Mobile Engagement Strategy?
A mobile customer engagement strategy is a sum of practices intended to incentivise customer interactions and build positive, fruitful relationships with your audience long-term.
Customers need a reason to respond to your texts and take you up on your offers.
You could try sending whatever comes to mind and seeing what sticks, but you probably want your SMS campaign to move the revenue needle soon with tried-and-true methods.
A mobile engagement strategy is a crucial step in which you think about your audience's expectations and your business goals, then figure out how to keep customers talking with (and about) your brand.
This includes considerations like customer segments, alluring deals and discounts for each flow, 2-way messaging to facilitate conversations and get feedback, and other best practices we'll discuss later in this blog.
Just to be clear, we'll focus on the SMS side of things with this post, not app messaging.
Why Do You Need a Mobile Engagement Strategy?
Why can't you just start blasting your SMS messages out?
Technically, nothing's stopping you. But alongside its attractive opt-in and open rates that got you thinking about it in the first place, SMS has notoriously high opt-out rates if you don't use those 160 characters wisely.
You're not just aiming for the audience not to opt out, though. That's the bare minimum.
You're aiming for them to engage with your company because compared to regular customers, engaged customers represent a 23% higher profitability, revenue increase, and relationship growth.
Sitting down and planning your mobile engagement strategy instead of closing your eyes and pressing "send" helps to eliminate budget waste, increase your chances of success, and earn the best SMS marketing ROI.
How, you ask? An SMS customer engagement strategy can:
Drive instant feedback for your services and products for improvement
Increase customer loyalty and app retention
Make it easier to spread the word about new features and offers
Create additional incentives using deals, cross-offers, and upgrades
But you get out of your mobile engagement strategy what you put into it. So how do you guarantee success?
10 Best Practices To Consider When Making a Mobile Engagement Strategy
SMS customer engagement comes naturally if you implement more than one of these practices.
Here's a quick glance at what we'll cover:
Summary
Best practice
Key points

Clean your database

Remove duplicates and invalid numbers to reduce your spending and get accurate metrics

Move ported numbers to reduce spending and reach all customers

Provide exclusive offers and incentives to your customer base

Base special deals off customer purchase and interaction history

Be creative with your offers – social WiFi is an idea worth considering

Carefully segment your audience

Turn to market research to help you create the right personas

Focus on relevant information only

Be flexible about the segments as people fluctuate over time

Customise and target all your SMS blasts

Tailor your content to each segment's needs and interests

Use 2-way messaging to let the audience give you feedback

Build a relationship with your contacts from the very start

Don't disappear and suddenly start texting people

Be consistent and focused on their needs

Don't go for the hard sell, take the time to build relationships

Tie your mobile marketing strategies with wider company marketing and comms

Connect it with email, remarketing, and traditional advertising

Use in-store QR codes to let people opt into your database or segments

Try gamification

Text at the right time (remember time zones!)

Text them when they're not working, during the lunch break or after work

Take advantage of shorter break times for fast and entertainment-related exchanges

Text when they're near your shop or office (location-based messaging)

Consider cultural norms and national differences when running an

international campaign

Consider holidays and other important days to schedule around

Learn about appropriate times and topics for messaging different countries

Offer customer support via 2-way texting

Make SMS a bigger part of how you do business

Let them respond for convenient communication and fast feedback

Rely on an analytics platform to help you understand trends and improvement areas

Track the right metrics and create averages for each one

Continue to optimise your campaigns as you go
Now let's dive into the details on how and why each of these tips works.
1. Clean Your Database
You're setting up your mobile engagement strategy for failure if you're texting invalid numbers or duplicate numbers.
What if the customer is already engaged on one number, and you're wasting twice the money to reach both?
This is also important for your SMS engagement strategy reviews and optimisation in the future.
You may be getting a skewed image of your mobile engagement strategy performance results if you don't have the full context, like some of your customers not receiving texts you thought they did, or a part of your messages going to the void.
While you're at it, move ported numbers, so you're not paying more than you need to and ensure you're reaching your customers.
That gives your audience a chance to engage in the first place.
2. Provide Exclusive Offers and Incentives to Your Customer Base
Base your offers on previous purchases and interaction history.
Things that complement or are similar to favourite products
Natural follow-ups to the service like maintenance, touch-ups, or extensions
Social wifi is worth exploring as a more universal perk
You could include a customer's saved favourite order in your discounts or deals at strategic times, like around a popular time they're likely to snack.
To find the best engagement magnets for your audience, you have to segment them based on mutual traits and personalise your text flows to each segment.
3. Carefully Segment Your Audience
Turn to market research to help you create the right personas and collect useful information about your audience.
For example, if you're selling or delivering food, differentiating between omnivores and vegetarians or vegans can be fundamental to knowing which offers to send them.
However, if you're in banking, that particular distinction is useless to your business.
Be flexible about the segments because people fluctuate between them.
From new users to loyal customers, vegetarians to vegans, customers who window-shop to those who churn through products, you know the drill.
A regularly updated database does half the work of giving you ideas for relevant, attractive content that will engage your audience.
4. Customise and Target All Your SMS Blasts
Your SMS blasts have to be relevant to each recipient.
As a simple example, you can't send the same "congratulations on your marriage" push notification to everyone – single people will get angry twice, once for you rubbing it in and again for wasting their time on an irrelevant message.
Bar the rare general announcement, you need to personalise your messages because 71% of people expect nothing less from companies.
But how are you expected to know all the details about your customers?
Apart from previous experience, sales and customer service insights, and basic segmentation, you can survey them – right there on your SMS channel.
Use conversational, 2-way messaging to prompt a response and get more insight into recipients' preferences for the future directly from your mobile app of choice.
Make it as easy for customers as possible to do from their mobile devices.
Instead of open-ended questions, you can provide a numbered list of options they can choose their favourite from and then add that choice into your database for future customisation.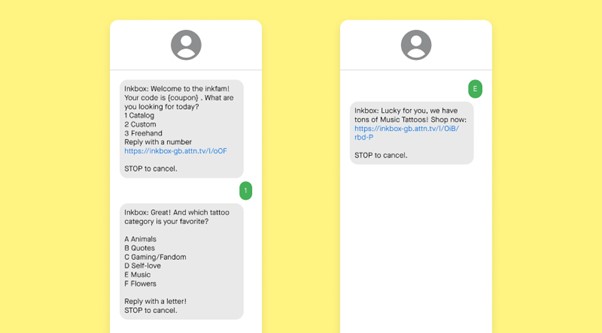 Tell them about deals and options within their chosen categories.
This enables customers to customise the SMS flow themselves, so they get more valuable content from you in the future.
When they start getting the insights they're looking for, they'll happily get involved knowing that you're helping them and aren't just trying to manipulate them into giving you money.
5. Build a Relationship With Your Contacts From the Very Start
Don't get people to sign up, not message them for months, then randomly text and expect high user engagement.
By then, they're on the other side of the line wondering, "who dat??"
It's better if you're consistent.
For an ideal customer experience, the relationship shouldn't feel transactional, so don't go for the hard sell – focus on catering to their needs and desires.
By extension, focus your offerings on what they need most rather than on what you'd most like to get out the door.
You can still market your services and products.
But the approach is different. It's about them and their journey, not you and your products.
Here's a good example of this approach:
In a case study, a lingerie brand used SMS to ask their customers if they were aware of their options with the business – namely, the discounts they already had – and the loyalty program.
This simple survey told the company that existing customers weren't engaging with their programs because they didn't know about them.
The company used this insight to automate personalised notifications about each account's discount status, giving customers an opportunity to shop at custom prices and driving an increase in conversions within two weeks.
That could be you.
If your audience discovered they had a voucher, points from their last purchase, or a chance to win a gift, they would have a reason to engage at that very moment.
Because it's a good deal for them, for things they already want.
6. Tie Your Mobile Marketing Strategies in With Wider Company Marketing and Comms
You can reduce the double-work and create a more seamless experience for customers by keeping a unified marketing database and coordinating your SMS with other channels, like:
Email
Remarketing campaigns
Traditional advertising
Around 70% of customers spend more with companies that offer a consistent, seamless, personalised experience across their channels.
So, for example, you can use in-store QR codes to let people opt into your database or specific segments.
Or, have a giveaway that requires social media engagement and requests access to people's emails to participate. This way, you grow both your email and SMS lists while also stimulating word-of-mouth on people's feeds.
Gamifying the experience with a points-based reward system is also a good idea.
Try this: Spice up your email newsletter by sending quizzes, riddles, or guessing games related to your products or programs and have people answer via text to win rewards.
If you make this a regular part of your campaigns, it gives people something to look forward to and engages them in incidental learning about your company.
7. Text at The Right Time (Remember Time Zones!)
A universal best time to send marketing text messages doesn't exist.
Group customers based on time zones and find the ideal times to text each group – it might not be the same across the board.
Most people prefer to be texted once a week, but 14% of consumers rate frequency as less important than message relevance.
Both factors are important for engagement.
If you're sending a flash deal on a clothing collection or introducing a new bank service, they need to be able to sit down and spend some time with the phone.
Text them when they're not working, like during the lunch break or after work.
Those times plus any other sort of break window that you can find (Spanish siesta, anyone?) can be great for faster exchanges like "type YES to receive free samples."
Location-based messaging (when customers are nearby) can help engage shoppers using SMS marketing.
For instance, they're shopping in the area, and your store happens to offer a unique, location-specific discount – an excellent way to reel them in.
However, take care not to be creepy. Ask for permission to use a customer's location and be transparent with why you're asking.
And don't go over that once-per-week guideline for marketing messages alone. Consider the user experience for how many notifications they receive across all channels. Bug them too much, and they may say "bye-bye" to their subscription.
8. Consider Cultural Norms and National Differences When Running an International Campaign
Think about:
Holidays and other important days to schedule around
Appropriate times and topics for messaging
This can be a once-and-done job to add to your segment information.
For example, knowing which portions of a segment practice which religion could immediately inform the appropriate and inappropriate themes and times to text them. You wouldn't want to text Christians on Christmas, nor would you want to send lunch discounts to Muslims during Ramadan.
You also need to work around different countries' censorship criteria and double-check not to schedule your messages at their nighttime.
Awareness of cultural norms can help you avoid embarrassing mistakes.
Besides telling you what not to do, this data can help you find wonderful ways to engage various segments as well.
Knowing the gift-giving season is approaching gives you the opportunity to pitch your products as gift ideas or create a campaign to promote charitable giving.
As long as you're taking steps to be appropriate to the occasion, a few such campaigns could help you meaningfully participate in your customers' lives and drive engagement.
9. Offer Customer Support Via 2-Way Texting
Just like we discussed keeping all your marketing efforts tied together in an overarching marketing strategy, all departments need to collaborate as well.
With 2-way texting, you can answer customers' questions and improve their experience with you much quicker through chatbots, live support, or a combination of both.
You can simply get their consent and inform them that the line is open, and they can approach you as needed.
Using your SMS channel helps customers get support fast. In addition, it becomes a goldmine for understanding user needs and approaching your customers in the future because it tells you:
How they described a problem, so you can adopt those touchpoints for marketing
What they weren't clear about, so you can clarify and assure them better
What solutions worked for them, so you can use that to attract new customers
Any trends you can pinpoint help you grow your database, improve your service, and keep customers engaged.
10. Rely on an Analytics Platform to Help You Understand Trends and Improvement Areas
Your SMS provider should be able to pull important data for you. Here are some metrics to track to monitor your performance and their formulas:
| | |
| --- | --- |
| Metric | Formula |
| Delivery rate | (Number of delivered texts / the total number of texts sent) x 100 |
| Interaction rate | (Total clicks / delivered messages) x 100 |
| Opt-out rate | (Opt-outs during campaign / subscribers at beginning of period) x 100 |
| Conversion rate | (# of conversions / # of messages sent) x 100 |
| Return on investment | (Total sales – total investment) / total Investment |
Create averages for each metric for a frame of reference.
You can use these figures to compare your campaigns and start getting insights like which type of call-to-action drives the most conversions and why a certain campaign performs better than others.
Look for patterns and keep optimising your approach – learning from experience is one of the most effective ways to improve.
Nothing gives you more complete, context-specific information relevant to your company.
Ensure Your Texts Aren't Left on "Seen" With a Mobile Engagement Strategy
The results are in: An SMS campaign that isn't backed by a mobile engagement strategy plan isn't likely to work.
To get the most out of your money, you need:
Segmentation
Customisation
Proven tactics to get your audience's response
And you need all of your channels working as one to keep customers happy and engaged.
If you want help with your mobile marketing strategy, contact us – we're happy to answer any questions.
Now, let's grow your database and get you started.